75mm Low Noise Small Dc Blower
75mm Low Noise Small Dc Blower
Tongxin

Shandong China(Mainland)

3-20 days

100000/week
75mm Low Noise Small Dc Blower
Waterproof Level: IPX5~IP67, fans could be work in wet environment, outdoor or under water with waterproof protection.
Additional function: auto-restart, temperature control speed, speed detection, stoppage alarm, waterproof etc.
7530 DC Blower Fan
Type: Blower Fan
Electric Current Type: DC
Mounting: Free Standing
Place of Origin: Shandong, China (Mainland)
Brand Name: Tongxin
Model Number: TX7530
Size: 75x75x30mm
Power Supply: 5V/12V/24V
Bearing Type: Sleeve Bearing/Ball Bearing
Material: Plastic Blade/Plastic Frame
Motor: Copper Motor
Air Pressure: 3.9~17.7(H2O)
Noise: 28~44DB(A)
7530 DC BLOWER Weight: 85g
Current: 0.12~0.5A
Power: 2.5~7.2W
Air Volume: 3.8CFM~13.5CFM
7530 DC BLOWER Speed: 2000RPM-3800RPM
Certification: CE,ISO9001;2008
After-sales Service Provided: No overseas service provided
7530 BLOWER Fan life: 30000 hrs
Warranty: 12 months
Applications: Kitchen,Car industry,Telecom,Medical,Equipment,UPS Power ,LED Lighting,Office Electrics,SUP Power,Communication,Printing Equipment
etc.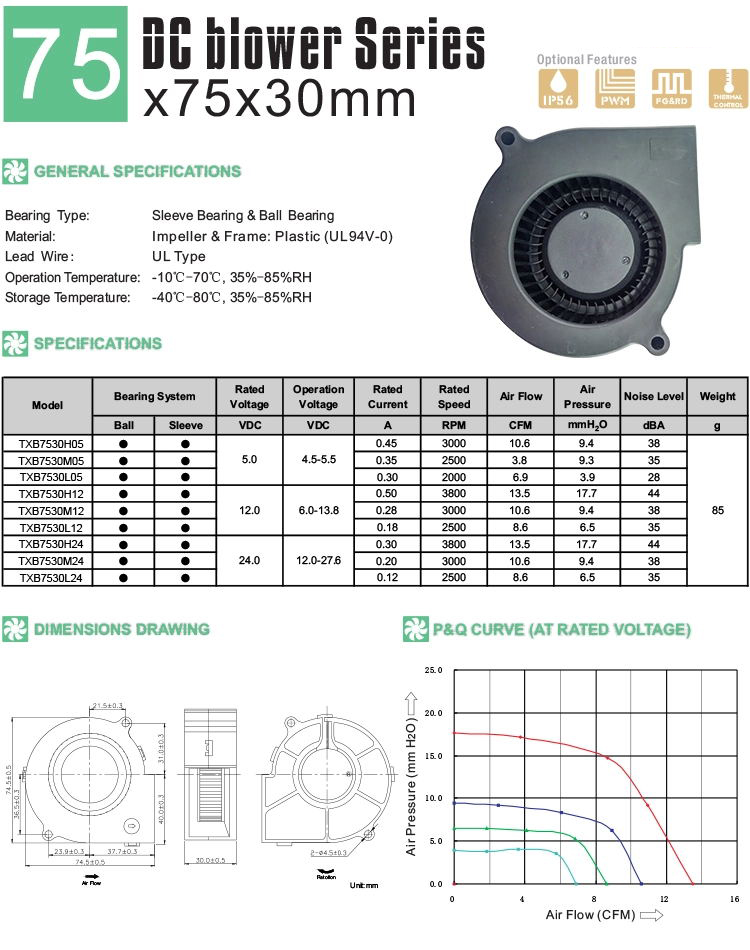 1. Wide temperature range: Suitable for ambient temperature from -200 °C to +200 °C.
2. Stress-free surface: circuit sensitivity is not affected.
3. Ultra-thin film layer: The surface heat dissipation has the lowest degree.
4. Low friction coefficient: Form surface dry film lubrication effect.
5. Organic compatibility: no bio-rejection is formed.
6. Transparent: The film can reach optical quality.
7. Excellent coating: It can improve the positioning of electronic parts and mechanical devices.
8. Solvent-resistant: It does not dissolve in solvents and can withstand acid and alkali liquid corrosion.
9. High retardation: oxygen, water vapor permeability is extremely low, while preventing free.
10. Insulation: can withstand 3000v/AC high voltage.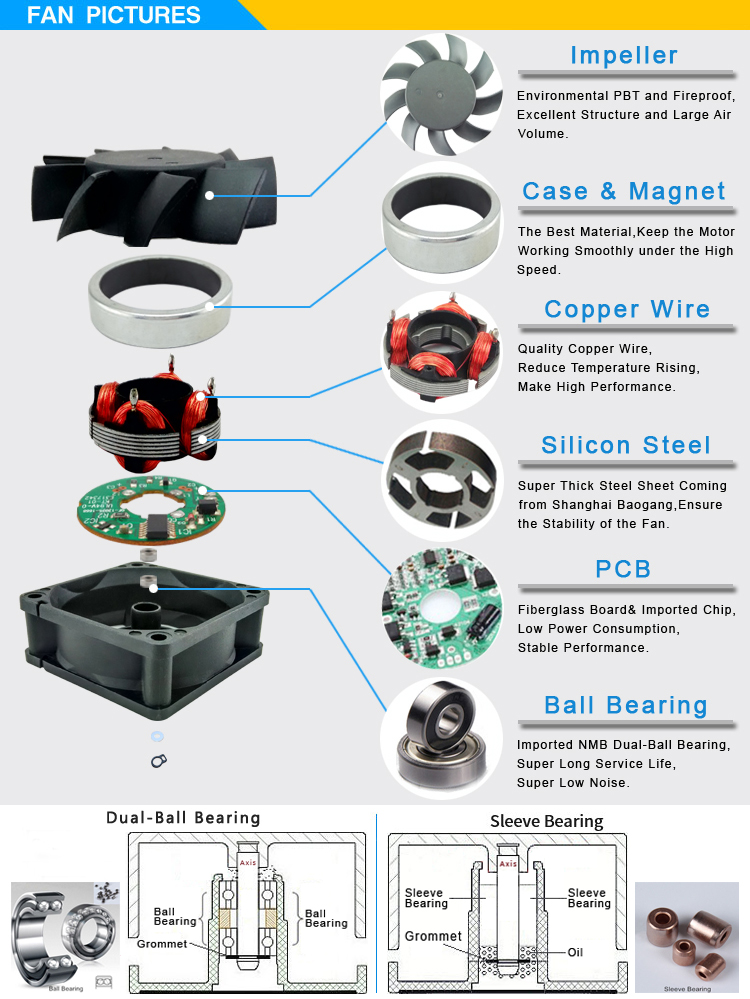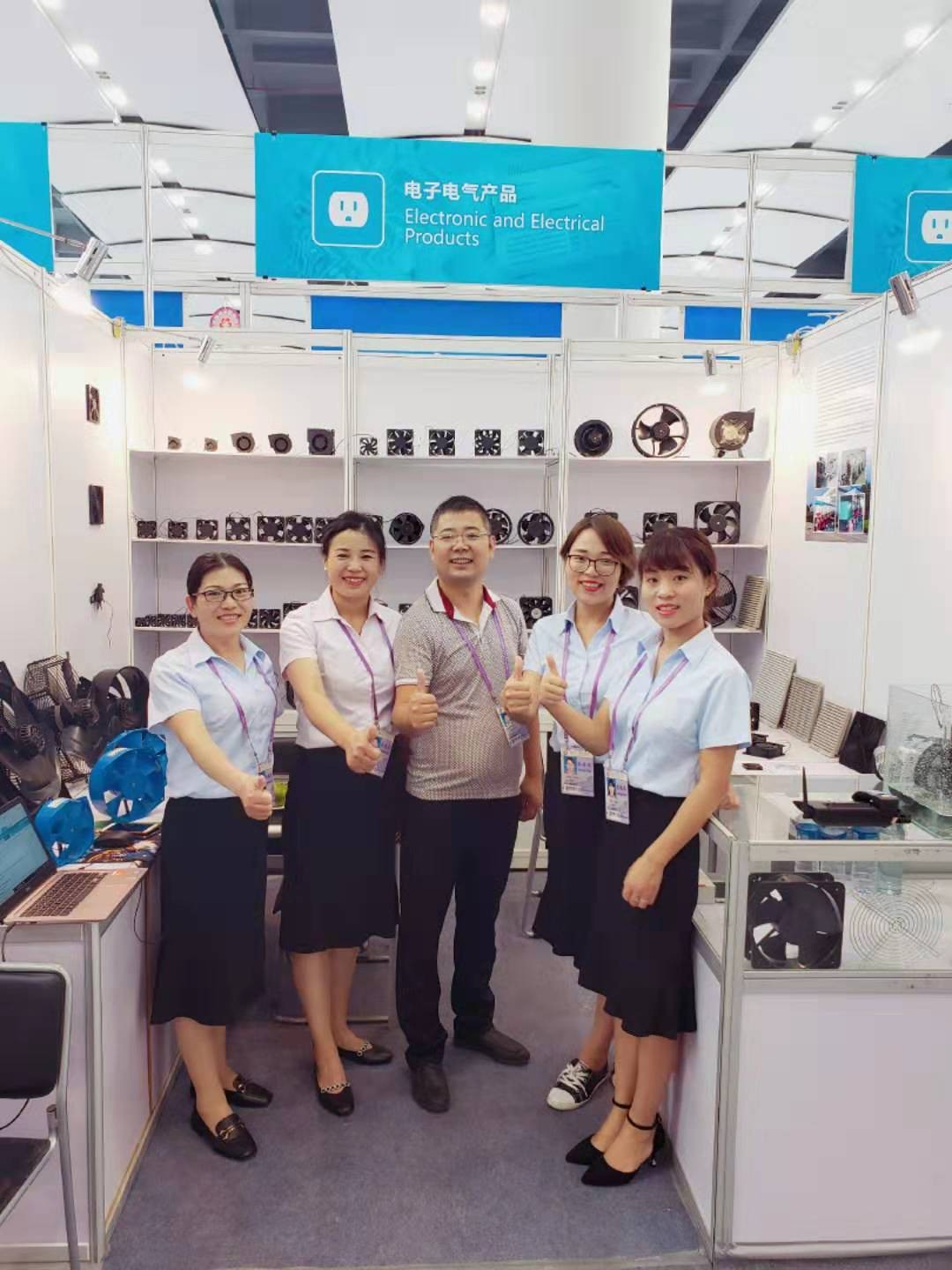 An DC fan is usually powered by 3v, 5v, 12v, 24v, 36v and 48v. It blows air along the axis of the fan, or parallel to the track of the blade axis.   Standard DC Axial fan sizes include 20mm, 30mm, 40mm, 50mm, 60mm, 70mm, 80mm, 92mm,120mm, 150mm,  and 200mm.
...more