120mm Btcooin Miner Dc Brushless Fan
120mm Btcooin Miner Dc Brushless Fan
Tongxin

Shandong China(Mainland)

3-20 days

100000/week
120mm Btcooin Miner Dc Brushless Fan
Speed 3500~6200rpm
1. Metal frame is built, the fan tube is resistant to high temperature and the fan is running better.
2. According to the customer's design, according to the temperature automatic speed control function.
3. Outdoor products can be designed with waterproof function, even if they are soaked in water.
12038 Btcooin Miner DC FAN

Type: Axial Flow Fan
Electric Current Type:DC
Mounting: Free Standing
Model Number: TX12038
Product name: DC BRUSHLESS FAN
Size: 120X120X38mm
Power supply: 12V/24V/48V
Bearing Type: Sleeve Bearing/Ball Bearing
Material: Plastic Blade/Plastic Frame
Motor: Copper Motor
Current: 0.12~2A
Air Pressure: 4.3~18.5(H2O)
Noise: 34~51DB(A)
12038 DC Weight: 270g
Power: 4.8~28.8W
Air Volume:80.5~160CFM
12038 DC Speed:3000~6200RPM
Certification: CE,ISO9001
After-sales Service Provided:No overseas service provided
12038 DC Fan Life: 30000 hrs
Warranty: 12 months
Application: welding machines, medical, instrumentation, chassis, cabinets, communication networks, electric heaters, pumps, etc.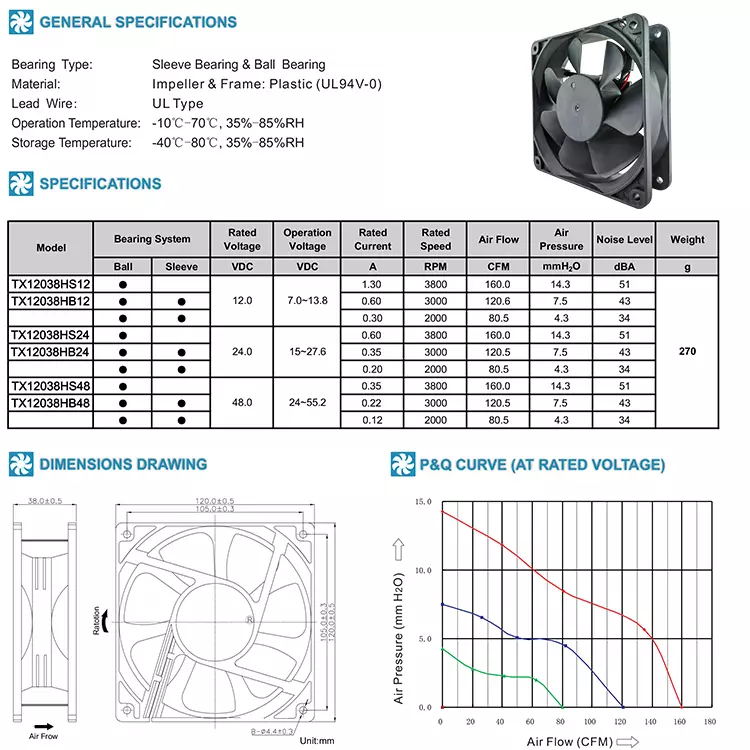 Ball bearing
Imported NMB dual ball bearing.Super long service life,super low noise.
Slilicon Steel

Super thick steel sheet coming from power consumption,stable performance.
Impeller
Enviromental PBT and fireproof,excellent structure and large air volume.
Electricity saving,good heat resistance,good balance,high airflow,lower noise.
Copper wire
Quality copper wire,reduce temperature rising,make high performance.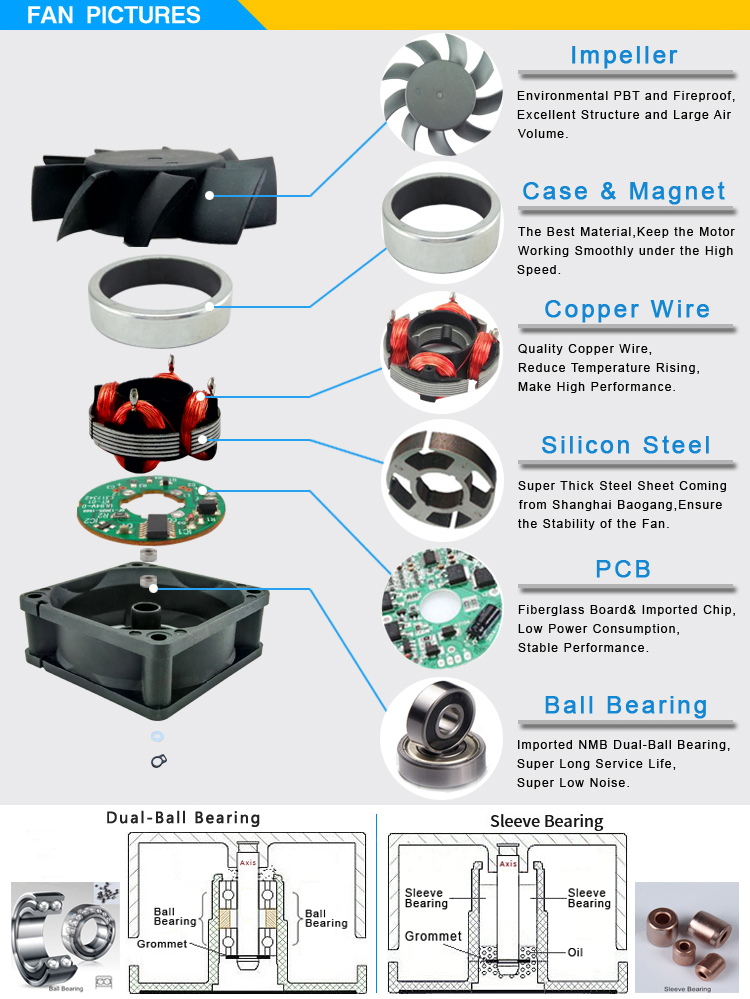 The terminal type can be customized according to customer requirements and various options.
2/3/4 wires has different connectors.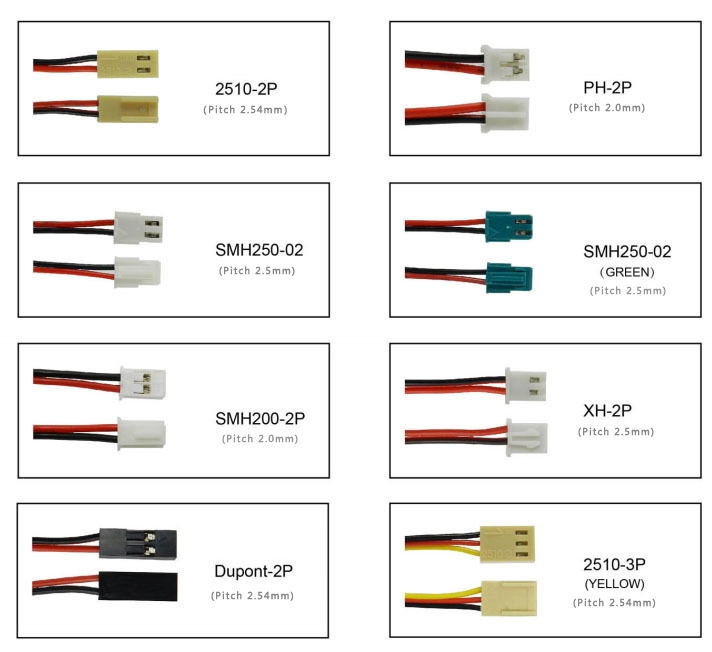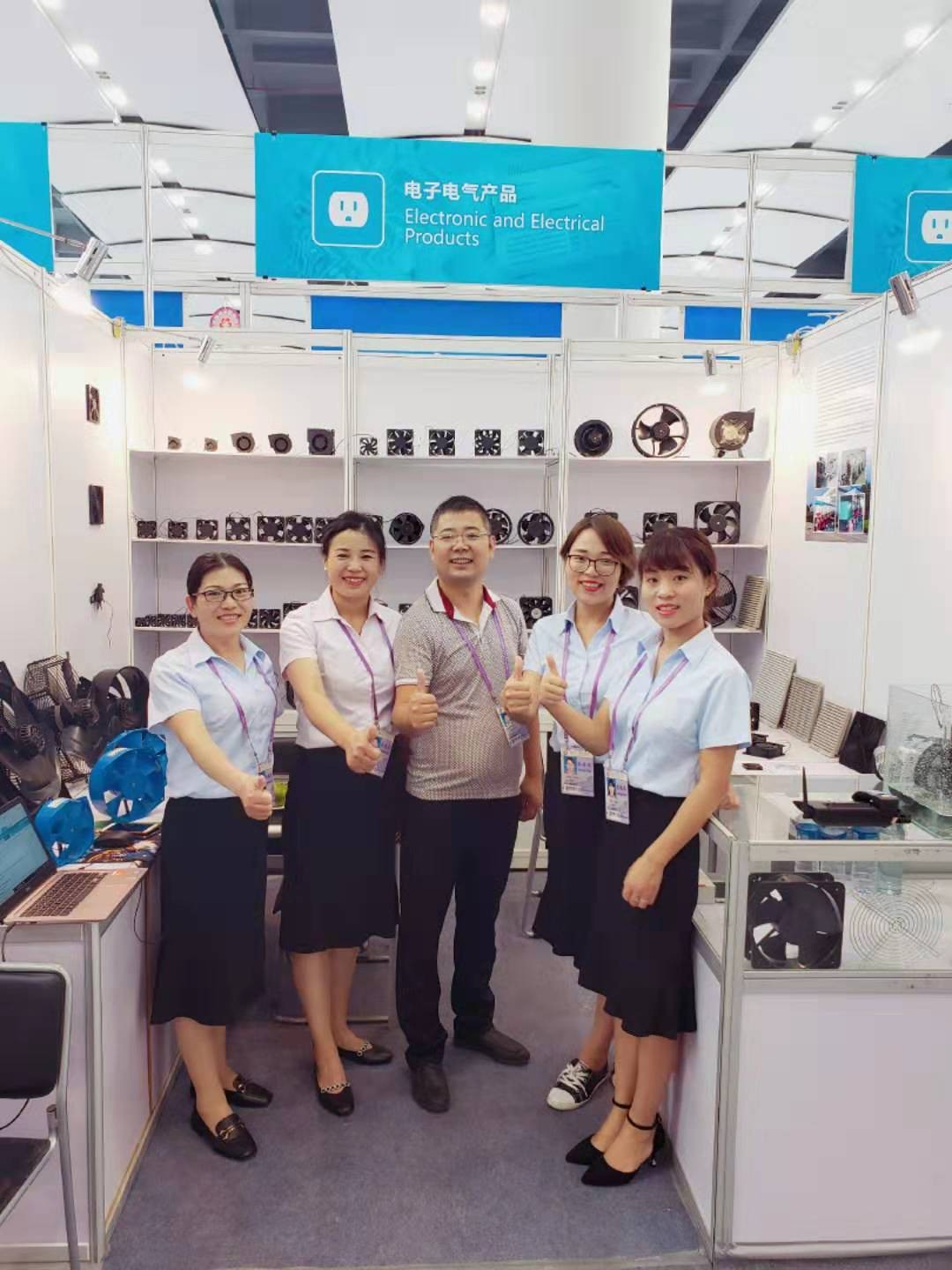 An DC fan is usually powered by 3v, 5v, 12v, 24v, 36v and 48v. It blows air along the axis of the fan, or parallel to the track of the blade axis.   Standard DC Axial fan sizes include 20mm, 30mm, 40mm, 50mm, 60mm, 70mm, 80mm, 92mm,120mm, 150mm,  and 200mm.
...more